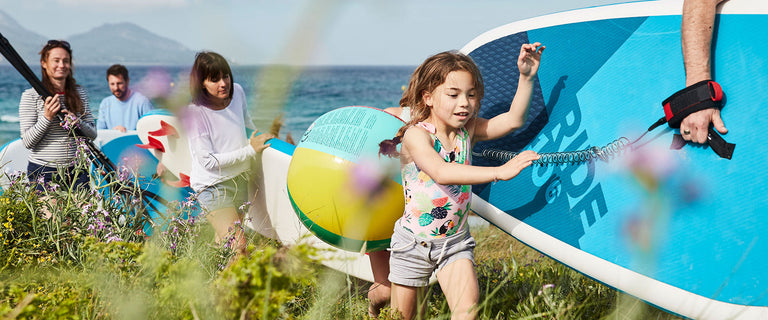 Return to blog
The best family paddle boards
Brand
Posted by Maxine Smiles -Cooke
There is nothing better than spending quality time together and embracing the great outdoors as a family. Whether it's dashing along cycle trails in the local woodland or soaking up the fresh air in your favourite park, there are plenty of outdoor activities to try as a family.
That said, if we could choose our ultimate family day out it would HAVE to be spent surrounded by sea, sand and of course SUP.
VIEW ALL ROUND FAMILY PADDLE BOARDS
Inflatable paddle boarding offers boundless opportunities to have fun, learn and develop both in and around the water. Not only is it a great way to get some peace and quiet while exploring the coastline it also a fantastic introductory water sport for kids to try as they begin to build their confidence and knowledge of the ocean.
We all know kids love to learn through play and adventure and owning an inflatable SUP allows youngsters to get involved in every aspect of the experience from unpacking to pumping to running and jumping till their hearts content, SUP is a sport for all the family to enjoy. As with any water sport, however, it is always essential that you equip yourself with the most reliable and durable equipment that will ensure everyone has a fun and safe day at the beach.
Here at Red Paddle Co we have a variety of family paddle boards that perfectly fit the bill, all of which feature industry leading technology and are tested to the max...! ​
The IFin SYSTEM
Before we chat through our favourite family SUPs, we'd need to take a minute to shine the spotlight on the Red Paddle Co iFins.

These beauties are moulded to most of our all-round boards and are specifically designed to offer a high-performance while being ultra-durable.
No need for tools, spares or replacement, the iFin can take a beating and are super easy to re-shape if they get bent.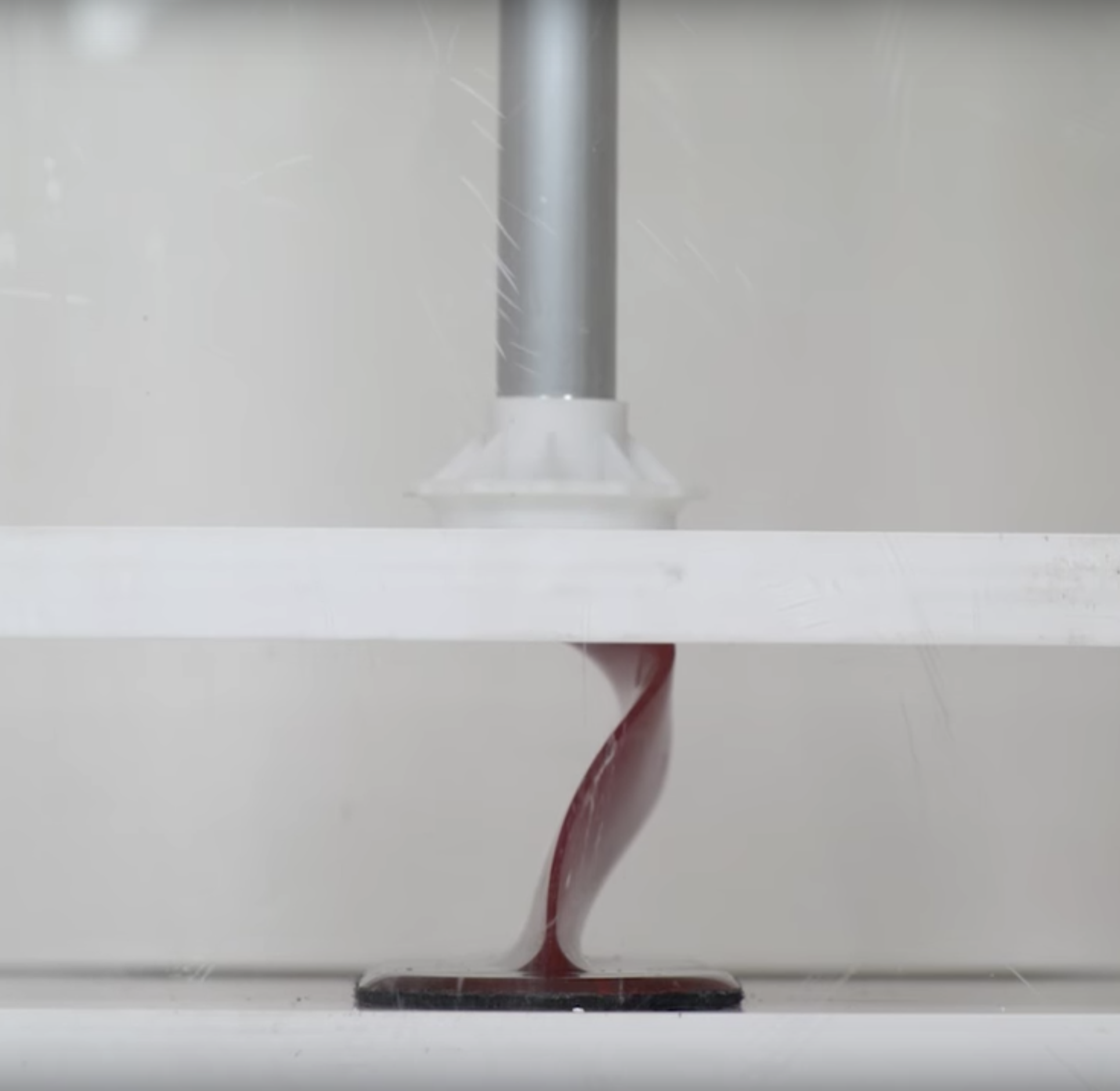 MEET OUR ALL ROUNDERS –
RED PADDLE CO'S MUST HAVE FAMILY PADDLE BOARDS ​
Our all-round range of inflatable SUPs are perfect for family fun, great for introductory level paddling but also offer a fantastic experience if you fancy going further afield. Featuring our award-winning Ride 10'6, these best-selling paddle boards are so versatile and durable making them the best paddle boards for all the family.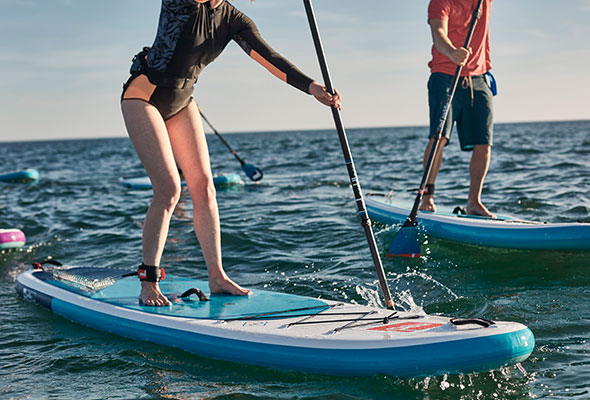 THE SUPER VERSATILE - THE 10'6" RIDE MSL​
The world's most popular inflatable SUP. If you are looking for a paddle board that is suitable for all the family, then this is the board for you. A truly versatile inflatable SUP, this board is designed to glide easily on flat water, whilst it's round nose and tail increase stability and usability in all kinds of conditions, no matter what kind of rider you are.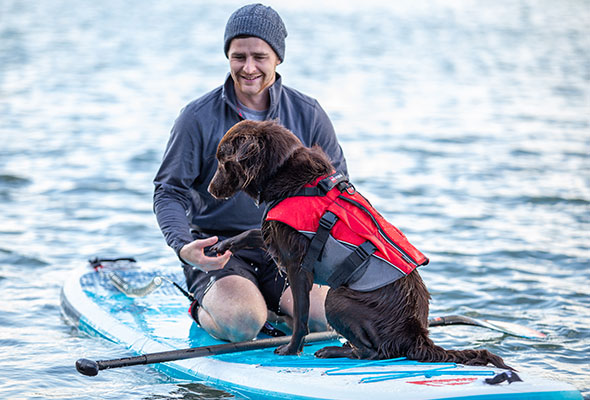 PADDLE TOGETHER WITH The 10'8" Ride
Designed for heavier riders and perfect for taking a small passenger with you. With all the same amazing features and technology as the 10'6 Ride, this board has added volume so it offers that bit more stability you might need for taking the kids or dog out with you – there is a whole lot of fun to be had with the 10'8 Ride.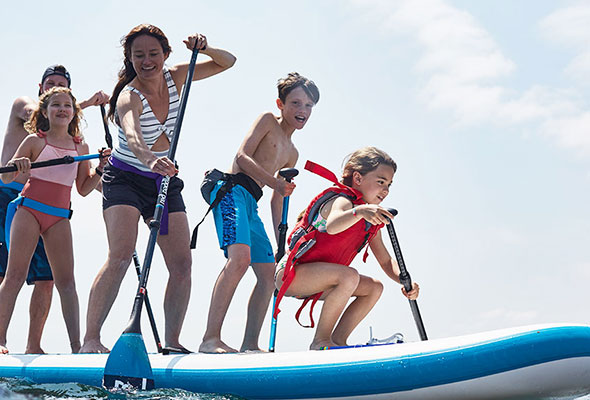 Get out with the whole family
Red Paddle Co's giant multi-person SUPs allow our unrivalled inflatable technology to really shine through. These super fun and sociable boards are designed so everyone can have a go and remain incredibly stable even with the whole tribe on board. Featuring multiple valves and grab handles for transporting the water – this board is all about team work and having fun.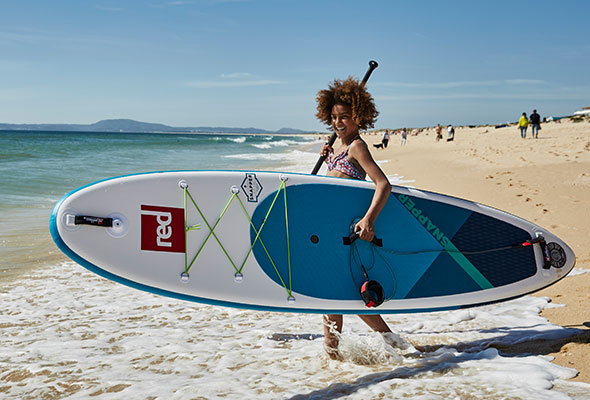 The best paddle board for kids
This purpose-built SUP is the best inflatable SUP for little nippers who are keen to develop their paddling skills and build their confidence on the water. The smallest of our all-round boards the Snapper is just as safe and durable as it's Ride counterparts, only the dimensions are fashioned for the smaller rider to get the most out their time on the water.
STILL NOT SURE IF THESE ARE THE BOARDs FOR YOU?
Our expert customer experience team is always on hand to support and provide guidance on our products so you can really make the most of your time on the water.