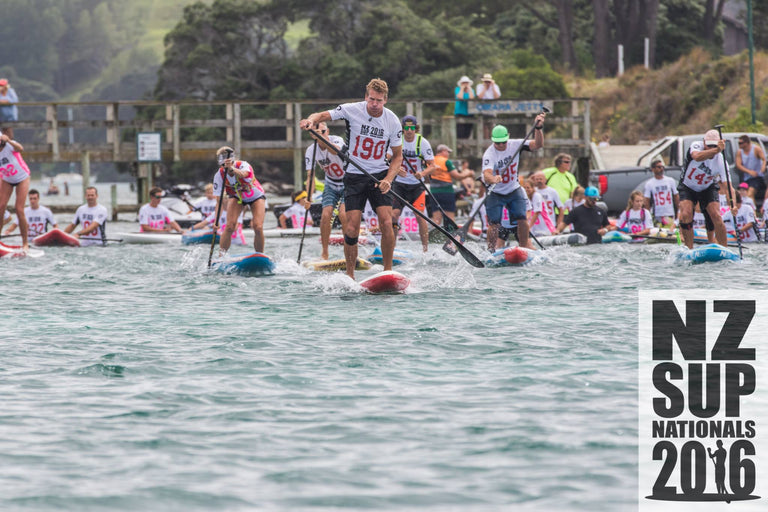 Return to blog
2016 NZ SUP Nationals
Responsibility
Posted by Jess Davies
The SUP race scene in New Zealand is well established and highly competitive. These guys know how to race! If you ever get the chance, you should try and get to their annual Race Championships, it's a massive festival of SUP with some incredible action. The emphasis is very much on participation, it's not just about a few hotshots. This year's event (27-28 Feb) saw nearly 250 racers from all over New Zealand (and quite a few from elsewhere around the South Pacific) scrapping it out over two glorious days of racing at Omaha Beach, just north of Auckland.


Paddlers using their Red Paddle Co Race shapes had some incredible results that absolutely showed just how competitive Red raceboards are, even up against the latest carbon 'solid' machines costing twice as much. In fact, it's true to say that the 4km distance race was dominated by Red Paddle Co riders: 8 out of the top 16 in the 70+ fleet were on Red Race boards! 1st overall (Laurence Anderson), riding a 12'6 Elite. 1st Female, (Shirley Dryden), riding a 12'6 Elite. 1stMasters (50+), John Kearney, riding a 12'6 Elite. (In fact, 2nd and 3rd Masters were on Reds too – that was a clean 1-2-3 on the podium!).
In the 8km, it was a similar story. 1st Overall, Steve Westlake on a 14' Elite. He finished WAY ahead of the rest of the 55-strong field; absolutely dominated the race. And this was a tough slog of a battle, in seriously choppy conditions and some harsh upwind legs.
There were heaps of other podium positions throughout the fleets, with the 11'0 Sport also placing very highly in many of the surfboard class rankings, and the 10'6 Maxx Race kicking butt in the junior fleets.
All in all, an incredible set of results for Red Paddle Co – you can't get better than 1st overall in both the 4km and 8km distances!
We'd like to say a huge thank you to all the paddlers who chose Red and massive well done to all finishers.