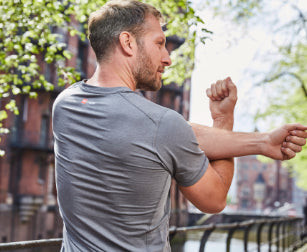 Return to blog
How To Stay Healthy And Fit During Winter 2022
Posted by Alex Clasper
As the weather gets colder and the days start to draw in, it can get more and more difficult to stay motivated to exercise. Suddenly a warm sofa can seem a lot more appealing than a run around the block! However, maintaining regular exercise will help you beat the winter blues whilst ensuring you stay healthy and able to fight off cold and flu bugs. If you're struggling to find your motivation this year, the following tips on how to stay healthy and fit during winter might just help you out!
Schedule In Exercise Time
Writing down your exercise plan for each week in a diary or calendar, makes you far more likely to follow through with it, and ensure that you make the time for exercise. This is particularly important if you've got a really busy week ahead of you, as we all know how easy it is for other priorities to take hold. One of the biggest challenges of staying fit in winter is the reduced hours of daylight as this gives you less time to exercise outdoors whilst it's still light. That's why a really good tip for how to stay healthy and fit during winter is doing a workout in your lunch break. This means that you don't need to worry about squeezing in exercise before or after work when it's cold and dark and your energy levels are lacking.
Set Goals
One of the most simple yet effective tips for how to stay healthy and fit during winter is setting goals. Be clear on what you want to achieve over the next few months, giving you a reason to get out of bed when it's cold and dark outside. You could set small week by week goals, such as setting a target distance you'd like to run, or set more long term goals. Winter is a great time to book yourself into events, such as cycles or runs, as this gives you a goal to work towards. Giving yourself a challenge to work towards, small or large, can really help to boost both physical and mental health during the winter months.
Find A Fitness Buddy
If you've made plans to workout with a friend, you're far less likely to cancel at the last minute! Finding a buddy to exercise with regularly can be really useful for helping you to stay motivated and keep each other positive. It also makes your workout a whole lot more enjoyable. Combining your fitness and social time is a great way to incorporate exercise into a busy schedule, and can be as simple as swapping a coffee for a gentle jog. You could also consider joining classes and groups, such as a running club in order to meet like minded people and make your fitness schedule more social.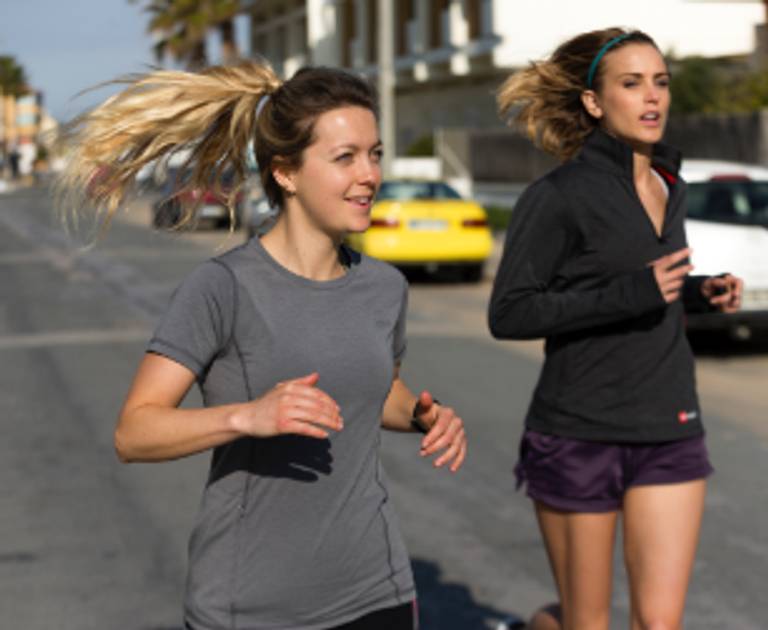 Have Indoor & Home Variations
Another crucial tip for how to stay healthy and fit during winter is making sure you have a few workouts that you can complete at home or indoors. Whilst it's important to get as much fresh air as you can during the winter months, it's good to have indoor backups for the days when it's simply too wet, cold or windy to make an outdoor workout enjoyable. You could perfect a simple 20-minute at-home workout, or find an indoor class that you enjoy, or a sport that can be played inside like netball, badminton or basketball.
Winterise Your Gear
In order to exercise comfortably outdoors during the colder months it's crucial to have the right clothing. You need clothing that will keep you warm and protect you from the chill, without causing you to overheat. Start with a tight moisture wicking base layer to draw sweat away from the skin, before adding an insulation layer such as the Red Original long sleeve performance top, with Dri-Release technology. Finish with a lightweight rain jacket in case of showers. Our waterproof active jacket benefits from a reflective trim which is really important for ensuring you are visible when there are lower light conditions in winter.
Boost Your Diet
We couldn't talk about how to stay healthy and fit during winter without mentioning the importance of diet. Complementing regular exercise with a balanced diet will help you to maintain good energy levels whilst ensuring your immune system stays strong - this is especially important during this time of the year when cold and flu bugs are particularly rife. You may also want to consider taking Vitamin D supplements as our exposure to sunlight is limited during the winter. Vitamin C is another really important one for keeping cold and flu symptoms at bay.
Try A New Activity
How to stay healthy and fit during winter doesn't have to mean running or working out in the gym. Why not use the change of season to try out a new activity? This is a great way to stay active as you put your mind to learning a new skill. This could involve taking a watersports class, such as paddle boarding or canoeing, trying out a new sport, such as netball, or diving into more outdoor adventures like off road cycling. Turning your head to something new is a brilliant way to get inspired when winter can have a tendency to drain your energy levels.