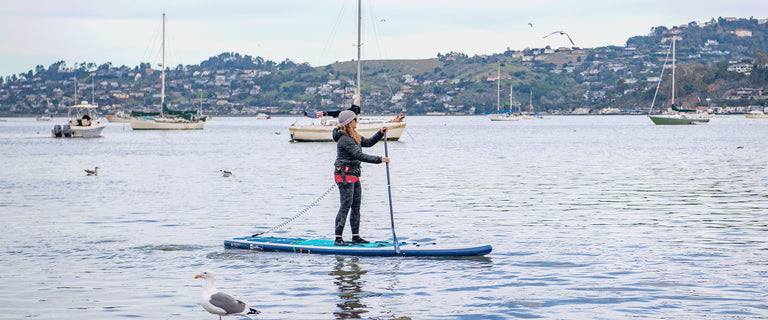 Return to blog
Plot Your Paddle: Paddle Boarding Safety For Rivers & Estuaries
Posted by Alex Clasper
Whenever and wherever you choose to take your SUP, paddle boarding safety should always be your number one priority. There are some specific safety considerations that come with paddling in flowing water like rivers and estuaries, even for experienced paddlers. The easiest way to remember the key paddle boarding safety guidance is to 'PLOT your paddle'. Let's take a closer look at what PLOT stands for.
P = Personal Flotation Device (PFD)
It's essential to wear a personal flotation device. As a minimum paddle boarding safety requirement, you should wear a 50N buoyancy aid. Wearing a buoyancy aid for paddle boarding in rivers and estuaries will give you the essential support that you need if you end up in the water. This is important, even for experienced paddle boarders.
L = Leash
Another crucial piece of SUP safety equipment in all water conditions is a SUP leash. This is what ensures you don't get separated from your board. It also prevents your board from drifting off and causing injury or obstruction to other water users. When paddling in rivers and estuaries you'll need a coiled SUP leash connected to a SUP quick release waist belt. This setup ensures that you can detach yourself from the board quickly from the waist in an emergency when you cannot reach your ankle.
O = Obstruction
A key part of paddle boarding safety is considering potential hazards around you. When paddling through inland waterways, it's important to stay at least two board lengths away from moored boats, bridge pillars and other obstructions. Flowing water can push you off track more quickly than calm waters and so it's good practice to stay conscious of your positioning as you paddle.
T = Telephone
The final part of PLOT is telephone. Consider your phone another essential item of SUP safety equipment to bring with you on all paddles. The easiest way to carry your phone when paddling in rivers and estuaries is by placing it in a water resistant pouch and keeping it inside your buoyancy aid. You could also keep it in something like the Red Original Waterproof Pouch, which is designed to keep its contents dry, safe, and secure. Before you set off, make sure to tell people where you are going and what time you plan to be back. Remember to keep them updated if you get delayed for any reason - This will ensure they don't raise the alarm unnecessarily.