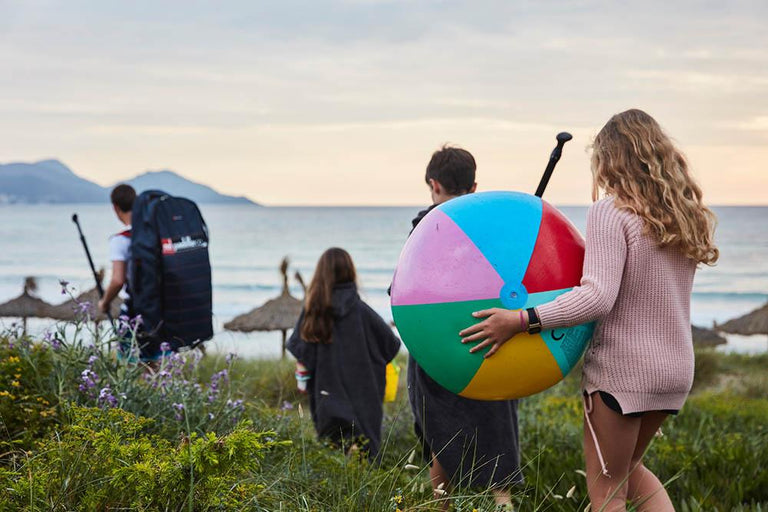 Return to blog
Re-wild your child with a summer adventure
Red Original
Posted by Catherine Morris
The end of the school year marks the start of the long summer holidays. Whilst the prospect of up to six weeks of uninterrupted home-time may be a daunting one, we've prepared a failsafe kit-list and guide to making the most of your family's summer, and getting bored children on board!

Holidays are a fantastic opportunity to explore new places or to simply slow down and take the time to appreciate home. What better way to make the most of your home this summer than to combine the two and get out exploring forgotten or undiscovered local gems?

This can be as simple as packing up a picnic and going on the hunt for some green space, or if you have the time this can easily become a trip, camping by night and exploring by day. Here we share some of our top tips for taking your family on an #originaladventure this summer, including our kit-list and even some original recipes to help keep your family hydrated and happy.


To help make the most of a summers day at the beach, we are offering 20% OFF Kids change robes and water tight cool bags on all orders placed before the 15th August 2018. Just enter the code SCHOOLSOUT during checkout.
Top tips
• Dabble in a paddle. We love the water and believe bringing boards on family days out is a great way to explore and have fun along the way! You needn't go far. Whether this means a trip to the estuary mouth or the river's source or a paddle at your local beach like adventuring Dad a_cornish_life, the summer holidays are an ideal time to try out a new hobby and escape routine in favour of intrepid fun and the great outdoors.

•
Immortalise your trips into family legend by telling stories. Part of the magic of camping is playing house in the great outdoors and part of the magic of paddling is the explorer status that comes from being privy to places and perspectives inaccessible by other means. Whether you are smugglers lifting a load from a secret cove or cave, or trekkers following the river on an epic adventure, involve your adventures in stories which capture your children's imagination and create memories you'll all treasure.

• As the nights begin to draw in a little, make the most of late summer and watch a sunset from somewhere new. Pack up a picnic and set your family the happy task of staying out until sundown; there's nothing more satisfying than watching the light languorously change, particularly over water, after a long summer's day. Your children will sleep soundly once they've watched from atop a hillside or on a clifftop as the sun sinks slowly through the sky, and so will you.

• Find some fireworks! For the time being forget the fifth of November and shivering over hot-dogs, many festivals and cities are marrying balmy summer evenings and firework displays with great success. Find a local display at your local regatta or fair or your city's summer festival, take your supper in a cool bag and watch the sky light up.
Whether you're on your boards or on foot, if you have the right kit, days out with the kids are effortless. Do yourself a big favour and come prepared, a little forward thinking will keep everyone happy and having fun.
Your summer survival kit
You'll need fewer towels and changes of clothes with our snug Children's Changing Robe, designed to get little adventurers dry, dressed and warm with minimal fuss. Whether it's waiting for them at the waters-edge, being worn to the shower block at your campsite, or being used as an outfit to wear home from the beach, this robe is as easy to throw on as it is versatile.
Absorbing four times its weight in water whilst being incredibly quick to dry, our microfibre towel was made for cleaning up after the pack on holidays, beach days and swimming trips. What's more, its antibacterial properties work to keep you and it clean and fresh, ideal if you're all washing in the wild. When you're done, simply hang it off a tree or on some hot sand to dry with ease, ready for the next dip. When rolled up the towel will take up less room than your water bottle! If you're tight on space or need it to hand, it'll fit in the bottle compartments of most backpacks, a no-brainer or holidays when you don't want your kit to weigh you down.
Once you've ventured to a beautiful spot off the beaten track it can be very hard to leave, so why let hunger drive you away? Alfresco dining is complete with our Cool Bag, which keeps your supplies ice-cold. You'll have a stash of thirst-quenching drinks and tantrum-quelling treats to hand throughout the day, and the picnic you packed at breakfast will be good to go at sundown, so you'll never have to rush home to feed the kids again.
At Red, we are serious about the warming drink waiting at the end of a good paddle or a fun-filled day. So much so that we've released our Marine Grade Stainless Steel Water Bottle, because no matter where you are, the steam on your coffee is non-negotiable. Luckily for you, two of our bottles fit neatly into the pockets on our Deck Bag, so you can serve piping hot chocolates to your brood as they toast marshmallows on the campfire, whilst you sip chilled Rosé to toast another day of successful parenting! We've included the recipe below for Red's "Original Hot Chocolate".
---
Essential Summer Survival Drinks
Red's "Original Hot Chocolate"
You know the feeling: it's late afternoon, you've been out in the elements all day, you're starting to feel a chill in the air and the children are starting to flag. But fret not! We've been there and this recipe is the result of many a time when our bottle has had our team's backs.

(Serves 4)

You'll Need
1.5 pints/750ml of your choice of milk
2 tbsp quality cocoa powder (we like Green and Blacks)
2 tbsp icing sugar
1 tsp cornflour
50g dark chocolate
A pinch of salt
½ tsp ground cinnamon
1 tsp fine orange zest (opt.)
Method
Measure your milk in a large jug, then tip a rough three-quarters into a small pan or microwavable bowl and heat on a low heat.

Meanwhile, grate the chocolate and add to the jug of leftover milk alongside the rest of the dry ingredients. Stir until it forms a smooth paste.

When the milk is bubbling and about to boil, take off the heat and slowly pour into the jug, stirring all the while, until you have a silky hot chocolate.

Pour the hot chocolate into your insulated stainless steel water bottle, so you can take it anywhere and enjoy it at any point in the following 12 hours!


Something colder? For a sugar-free summertime drink which will keep your family hydrated throughout the day, try our no-fuss and all-natural fruity water.
Our Favourite Fruity Water
You'll Need

Water
Ice cubes
6 basil leaves
Half a lime
100g hulled ripe strawberries

Method
Use a wooden spoon to muddle your strawberries, ice and basil in a jug until the strawberries are slightly crushed and release their sweet juice and the basil adds its sunny warmth. Tip into your water bottle (a breeze given the canteen lid), add some zingy wedges of lime, top with water and you're good to go! Feel free to experiment with any fruits and herbs you have to hand. As the ice melts, it will cool the temperature of the water and the new cooler temperature will be locked in by the bottle.
---
We hope you enjoy the holidays and, wherever you adventure to, please share your photos and experiences with us on Instagram and Facebook, as you #exploreyourworld on an #originaladventure!
Photo by a_cornish_life