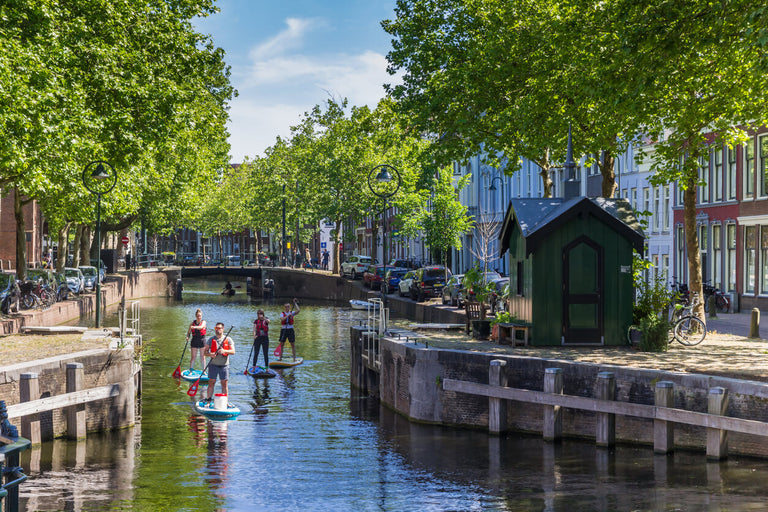 Return to blog
Red Paddle Co FAQ: Can You Paddleboard On A Canal?
Posted by Alex Clasper
Most people's minds jump straight to the ocean or the lakes when they think of spending any time on a paddleboard. While these bodies of water undoubtedly offer an epic SUP experience, they are not the only way that you can get out and explore the UK by water.
Particularly if you live inland, you'll be aware of the fact that the UK is home to over 2,000 miles of tranquil canals. Though it's very common to explore this network by boat, it's less common to travel by other methods and many people ask the question "can you paddleboard on a canal?"
The answer to this question is that you certainly can paddleboard on a canal and there are so many reasons why you might want to. Canal waters tend to be calm, which can make them a great place to go to hone your skills. Plus, the UK's canal network tends to be home to some beautiful wildlife and runs through some lovely places that you might otherwise overlook. So, if you're keen to enjoy all that canals have to offer on your paddleboard, let's take a closer look at the things you need to know before you venture out.
How To Paddle On Canals
Canals are used by all kinds of crafts, so there are a couple of specialist bits of advice to follow to make sure that you know how to paddle on canals correctly and safely.
All boats and users will stick to the right-hand side of the canal, so make sure you do the same to prevent collisions. You should also take extra care to avoid cutting corners. Particularly if the natural landscape around the canal is a little overgrown, boats can suddenly appear from around the bend, so by sticking to your side of the canal you are sure to avoid any sudden surprises!
Aside from this, all of the normal SUP safety advice applies to paddling on canals. Make sure that you are wearing a secure leash and a buoyancy aid.
The water in canals can be quite gentle, so while you will utilise the standard paddling technique, you may find it easier to propel yourself along in comparison to when you go paddleboarding at the beach.
Do You Need A Licence To Paddleboard On A Canal?
Once you've brushed up on the rules and rights of way of canal use, you also need to make sure that you have the appropriate permission to use your SUP on the water. Most canals will require a special licence if you want to paddleboard on them.
You can obtain a licence for your paddleboard from the Canal & River Trust at any time of year, with flexible options available depending on how frequently you plan to use the water. If you want to paddleboard on a canal for more than 30 days of the year then a licence from British Canoeing might be the most suitable and cost-effective option, allowing you access to all 5,000 miles of waterways in the UK throughout the year, including the canals.
Best Paddleboards For Use On Canals
Now you are all clued up on the requirements of paddleboarding on canals, the last thing to do is make sure that you have the right kind of paddleboard for your adventure. As there are so many miles of canals to explore in the UK, you will likely find yourself travelling some long distances. Choose a paddleboard that has plenty of space to carry important supplies and opt for one that promotes an effortless glide.
Designed specifically for long outings, Red's Voyager touring board is the ultimate touring board and is perfect for canal use. The large front and rear cargo areas allow you to conveniently strap your waterproof SUP deck bag or cool bag onto the board and carry a picnic or spare clothing with you, and can even be used to safely adventure with your pooch in tow.
With the answer to the question of "can you paddleboard on a canal" being a resounding yes, we don't blame you for wanting to hit the water straight away. Make sure that you always follow the tips we have laid out in this article and don't forget to take in the beautiful nature and wildlife that surround the canal network. If you need any more guidance about the best paddleboard to explore canals with, simply get in touch with the team at Red who will be able to help.