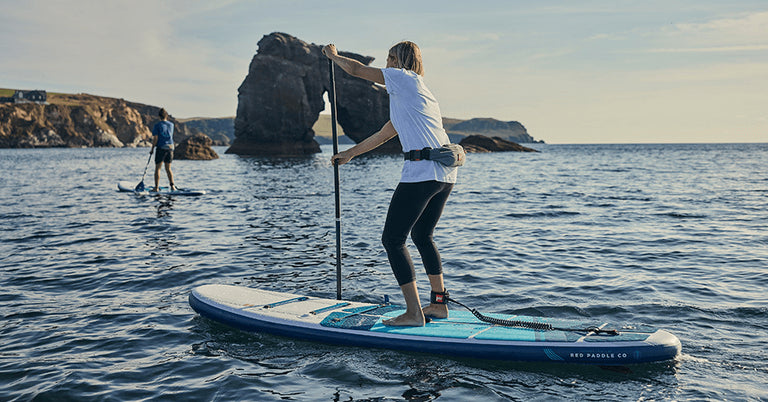 Return to blog
Which Type Of SUP Leg Rope Do I Need For Paddle Boarding?
Posted by Luke Green
A SUP leg rope is one of the most important pieces of safety equipment that you need when paddle boarding. This is what keeps you attached safely to your board in the event that you fall in the water. It prevents the board from drifting off and hitting other water users, whilst ensuring that you have a large float to hold onto in emergency situations. So as you can imagine, choosing the correct type of SUP leg rope is an important decision. Let's take a look at how to choose the right option.
Coiled Vs Straight
A paddle board leg rope will either be coiled or straight. The correct choice for you depends on the water conditions and the type of SUPing you're doing.
A Coiled Leg Rope Is For Flat Water Paddling
Most paddle boarders will require a coiled leg rope. This is designed for paddling in flat, calm water conditions, including lakes, canals and calm seas. It's also suitable for racers. The coil in the leg rope prevents it from dragging in the water and collecting debris. Red Paddle Co's Coiled SUP Leg Rope also benefits from a dual cord and pivot points to prevent twisting in the water.
A Straight Leg Rope Is For Surfing
If you're planning on paddling in the surf then you'll need a straight paddle board leg rope. The reason that surf leashes are straight rather than coiled is because you want the board to stay further away from you if you fall in, so that it doesn't come back and hit you with force in whitewater conditions. That's why you'll find that a SUP leg rope for surfing is also longer than a coiled one. A quick release loop on our Straight Surfboard Leg Rope ensures you can quickly detach yourself in unsafe situations.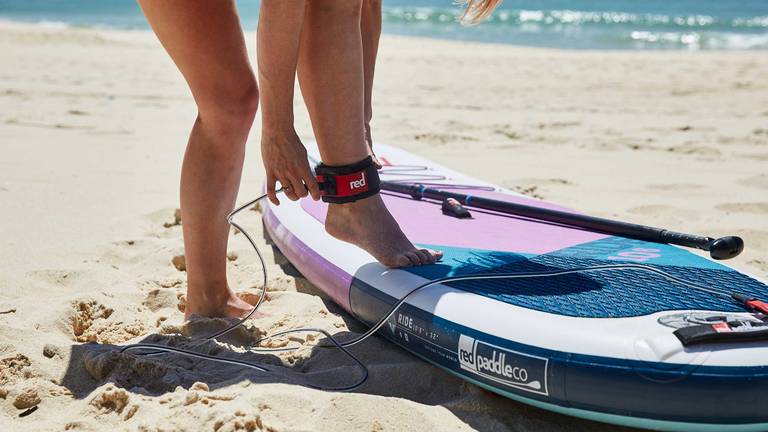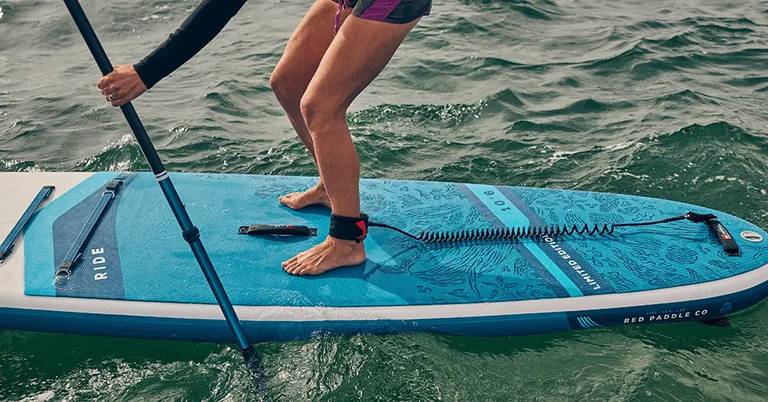 Ankle Vs Waist
You may have seen that some paddle boarders have their leash attached around their waist, whilst others have it attached to their ankle/calf. So which option is right for you? If you're paddling in any form of flowing water, such as a river or tidal estuary, or in windy conditions then you should always wear a Quick Release Waist Belt with your coiled leg rope. This enables you to quickly detach yourself from your board in emergency situations when you're unable to reach your ankle to detach yourself. The waist belt sits comfortably under a personal flotation device and can be easily adjusted using the push clasp. You should not use the Quick Release Waist belt with the straight surf leash.
How To Use The Quick Release Waist Belt
We've ensured that the waist belt is as easy as possible to use in conjunction with the SUP coiled leg rope, using the following simple steps:
Attach your coiled leg rope to one of the leash attachment points at the back of the board
Attach the ankle leash cuff to the waist belt by feeding the leash string through the D-ring and tieing
Take the waist belt and place it around your waist, open the buckle and pull it tight
To release the belt, simply pull the red toggle
When paddling in flowing water we recommend using a minimum 50N buoyancy aid with your waist belt leash.
How To Attach The SUP Leg Rope To Your Ankle
If you're not paddling in flowing water, but rather are paddling in flat water conditions or in surf, where you do not require the use of a waist belt, you can set your leash up using the following easy steps:
Attach to one of the leash points at the back of the board using the leash string and rail saver. You can make a loop with the leash string and pass the velcro through. Our leg ropes are designed to be attached easily to a range of different boards
Attach the neoprene cuff to your lower calf so that it sits just above the ankle.You should wear the leash on your most dominant leg, which is the foot that you plant near the tail of your board when you paddle.
Adjust the velcro to ensure the leash fits comfortably around your leg, but is not too tight so that it restricts your movement
For more information on choosing the right SUP leg rope for your requirements, please don't hesitate to get in touch with us.