Pact Technology
11'0" Compact MSL PACT Inflatable Paddle Board
The second addition to the Compact family, the 11'0 Compact is a full-sized touring SUP that packs down to half the size of a conventional inflatable paddle board.
Expected delivery 1 - 2 weeks
| | | |
| --- | --- | --- |
| | Max Rider Weight | 110Kgs |
| | Rider Style | All Round |
| | Min Experience | Beginner |
Full of practical features and innovations, this board is an ideal match for paddlers who regularly travel with their board or want to...
Full of practical features and innovations, this board is an ideal match for paddlers who regularly travel with their board or want to adventure further with the convenience of an all-in-one package.
The increased length makes this board perfect for longer paddling adventures and paddlers travelling the world with their SUP. Designed with a more drawn out shape to increase glide, the 11'0 Compact is ideal for paddlers who want to travel and explore without limitation.
The board has a quad stringer tensioning system, giving maximum rigidity, while the central living hinge means the board can be folded and rolled into a super small package, making it the most transportable adventure SUP on the market.
Based on the ever-popular Red Paddle Co 11'0 Sport MSL, this board provides the perfect blend of stability and manoeuvrability. Its extended length offers a fantastic step up from an all-rounder, while also catering for slightly heavier riders.
Flat Bungee Cargo System - UNIQUE TO RED PADDLE CO! - The self-closing, flat bungee straps are now larger, creating more tension to keep all your gear on your board! All boards come with three bungee straps on the nose, setting you up perfectly for adventures to come.
Ergonomic tubular handles on all boards to give a cushioned, comfy grip when carrying your board.
Read less
Everything you need to get started
Compact Backpack
THE COMPACT backpack is highly engineered to offer unique levels of adjustability and comfort, plus incredible shoulder and back support.
We think it's the most highly engineered SUP bag on the planet, and as it applies approximately 53% less downforce on the carrier's lower back, you can travel for longer in comfort. With customisable lumbar support and adjustable height features, it's suitable for almost any size of paddler. And it doesn't stop there:
Super strong padded handles for a comfortable grip
Concentrated shoulder padding
Brushed cotton shoulder and back cushioning
Adjustable shoulder straps
All these combine to make it a pleasure to carry, whether you're on a short walk to the water or off on an epic adventure.

Dimensions: Height: 560mm | Width: 420mm | Depth: 320mm
More Information
5 Piece Paddle
Creating a compact paddle was not an easy task, but we have found the perfect solution: a five piece paddle.
As a result, it packs away perfectly, but it is still adjustable with no compromise on the water.
MATERIAL
Made of high-modulus carbon for extra rigidity, with a durable pure nylon blade.
ECO
The Nylon blade of the paddle is laser etched, with no printing, chemicals or transfers and produced with a single pure material. Meaning the design will stay on forever, resulting in no aesthetic implications.
ASSEMBLY
Our new anti-twist adjustment system with 45 degree cut push-pin technology has resulted in our most compact paddle yet.
More Information
8ft Coiled SUP Leash
This has been designed for flat water paddlers and racers who want to make sure they are not getting any excess drag from their leash being in the water.

The leash features a interchangeable ankle or calf cuff with a quick release loop and integrated key pouch. It has a 7mm dual cord coiled leash which prevents the leash from dragging in the water plus dual pivot points to reduce twist. The leash is supplied with a length of rope so you can use with tradition leash points or can attach directly to our leash points which you can find at the back of any Red Paddle Co board.
More Information
Compare
| | | | | |
| --- | --- | --- | --- | --- |
| | 11'0" Compact MSL PACT Inflatable Paddle Board | 9'6" Compact MSL PACT Inflatable Paddle Board | 11'0" Sport MSL Inflatable Paddle Board | 11'3" Sport SE MSL Inflatable Paddle Board |
| Board Length | 11'0" | 9'6″ | 11'0″ | 11'3″ |
| Board Thickness | 4.7" / 120mm | 4.7" / 120mm | 4.7" / 120mm | 4.7" / 120mm |
| Board Volume | 269 Litres | 160 Litres | 235 Litres | 307 Litres |
| Board Weight | 8.4kg | 7.4kg / 16.3lb | 9.7kg / 21.34lb | 10kg / 22lb |
| Board Width | 32" / 813mm | 32" / 813mm | 30" / 762mm | 32" / 813mm |
| Bag Size | 560mm (h) x 420mm (w) x 320mm (d) | 560mm (h) x 420mm (w) x 280mm (d) | 960mm (h) x 390mm (w) x 360mm (d) | 960mm (h) x 390mm (w) x 360mm (d) |
| Bag Volume | 150 Litres | 120 Litres | 150 Litres | 150 Litres |
| Fins | Twin Click Fin System | Twin Click Fin System | Removable FCS US Box Fins | Removable FCS US Box Fins |
| Paddle Options | 5 Piece Paddle | 5 Piece Paddle | Carbon Nylon 50, Carbon 100 | Carbon Nylon 50, Carbon 100 |
Board Technology
MSL: The Difference Is In The Detail
Our exclusively-owned MSL Fusion technology provides unrivalled stiffness, weight-saving stability and a superb cosmetic finish. Together, with our patented RSS stiffening system, we make the most durable inflatable boards on the market.
MSL is recognised as the industry's leading construction process and is exclusive to Red Paddle Co, here's why…
A SUPERB COSMETIC FINISH – All Red Paddle Co boards have an industry-leading cosmetic finish. No wrinkles or blemishes. The boards look cleaner and smoother and even feel better to the touch.
WEIGHT-SAVING BUT STABLE – All Red Paddle Co boards are up to 2kgs lighter than our previous double layer construction. But very importantly they are not too light. If a board is ultra-light it is more affected by wind and current while on the water. MSL boards have a reassuring lightweight feel.
STIFF AT LOWER PRESSURES – Due to the Torsion Stiffness effect all Red Paddle Co boards are stiffer at lower pressures compared to other products on the market. We recommend a pressure of between 16-22psi. Less pumping and more paddling.
ENHANCED DURABILITY – The multiple-layer coating of Red Paddle Co boards is tough and durable. With our third generation of MSL material now in use, our boards are more durable than ever.
More Information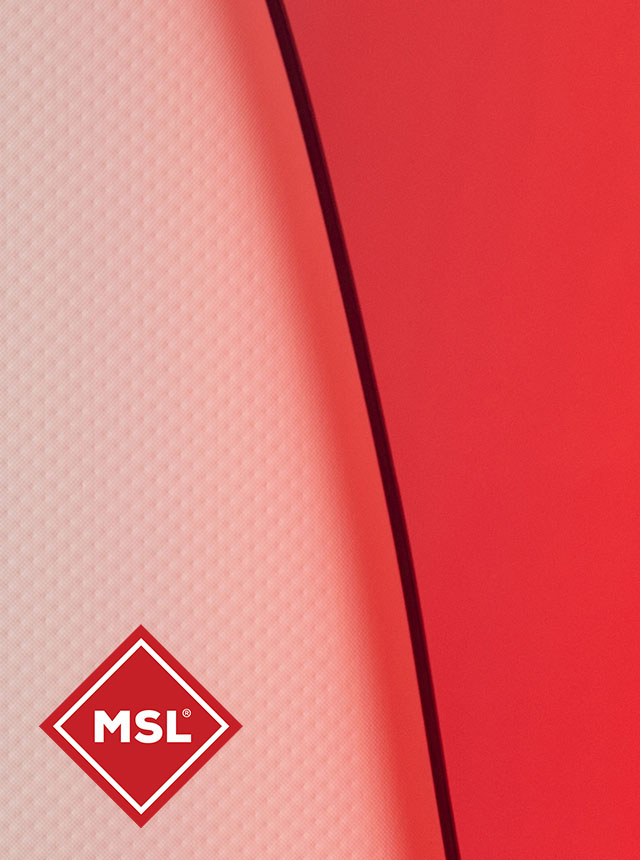 Tec Air: Pioneering Paddle Board Design
At Red Paddle Co, we sweat the small stuff. We're dedicated to providing you with quality, and that's why we're the only inflatable SUP brand that makes boards in its own private facility. We use innovative materials and manufacturing techniques to produce superior-quality products you won't find anywhere else.
Unlike other paddle board companies out there, we never compromise on quality and innovation. We've taken standard inflatable technology and redesigned almost every aspect of it to deliver a truly outstanding board.
Our products are of the highest quality, offering safety and durability that you simply won't find elsewhere. Before any of our board designs go into production, we carry out extensive research and testing to make sure your board performs when you need it to most (we even ran over one of our boards with a tractor…it was fine.) It then takes us 72 hours to make each individual board – that's ten times longer than the industry average. This whole process is know as Tec Air and is how we refine and develop our boards at every stage of production. By focussing in on the key areas of the production process we have been able to identify ways we can improve the end result. Whether it be detailing exactly where and how the layers are bonded or how the rocker curve is applied to the board, no area of the design process is ignored.
It's worth knowing that the key areas of construction are inside the board, two while any two boards might look the same…they can be world's apart in how they're constructed. Our attention to detail on the inside ensures the best experience on the outside.
More Information