2021 9'4" Snapper MSL Inflatable Paddle Board
Designed for little rippers up to 60kgs/132lbs that want a SUP of their own
Sale price

£799.00

Regular price

Out of Stock

Our retailers are getting frequent deliveries so please contact your local Red stockist as they'll be able to advise on delivery dates.
Tax included.
translation missing: en.products.product.in_stock
translation missing: en.products.product.out_of_stock
| | | |
| --- | --- | --- |
| | Max Rider Weight | 60Kgs |
| | Rider Style | All Round |
| | Min Experience | Beginner |
Stand-up paddleboarding is for everybody, not just the grown-ups, which is why we make the 9'4" Snapper, an inflatable SUP for kids up to 60kg/132lb....
Stand-up paddleboarding is for everybody, not just the grown-ups, which is why we make the 9'4" Snapper, an inflatable SUP for kids up to 60kg/132lb.
The Snapper is the perfect way to get kids onto the water on their own board. Shorter and narrower than the Ride family, this highly durable board is made to the same rigorous standards as the rest of our range, but it's dimensions make it easier for young riders to manoeuvre, whether on a river or catching the swell off a sandbar. In other words, it offers the authentic Red Paddle Co experience, just packaged for the next generation of paddler and is an ideal entry point into the world of SUP.
Featuring our indestructible iFins, a six point cargo tie down system and a Red embossed decked with diamond cut tail section for additional grip makes it packed full of innovation enabling your little ripper to get the most out of their time on the water.
Flat Bungee Cargo System – UNIQUE TO RED PADDLE CO! – The self-closing bungee straps are now larger, creating more tension to keep all your gear on your board! All boards come with three bungee straps on the nose, setting you up perfectly for adventures to come.
Ergonomic tubular handles on all boards to give a cushioned, comfy grip when carrying your board.
Read less
Everything you need to get started
There is no product data to show, or this item is currently unavailable
Titan II SUP Pump
The Titan II Pump is the world's first purpose-built, double chamber SUP pump. It's designed to cut the amount of time and effort it takes to inflate your board by half. Constant innovation has led to us testing the absolute boundaries of inflation technology and as such, we're confident that there's nothing quite like the Titan II pump on the market.

The Dual Cylinder system, combined with the Hi Flo handle means you are in complete control of the energy used to inflate your board. It puts the volume into your board faster and reduces the effort required to reach a higher pressure.
More Information
8ft Coiled SUP Leash
Designed for flat water paddlers and racers, for no excess drag from their safety leash.
The leash features an ankle cuff with a quick release loop and integrated key pouch. It has a 7mm dual cord coiled leash which prevents the leash from dragging in the water plus dual pivot points to reduce twist. The leash is supplied with a length of rope so you can use with tradition leash points or can attach directly to our leash points which you can find at the back of any Red Paddle Co board.

More Information
Twin iFin
All boards in the Ride range are now integrated with two super durable, flexible iFins, making the boards straighter and faster to paddle than a three fin set-up. The iFins also provide increased agility and performance in the surf and make the board easier to pack down into its bag. No need for tools, spares or replacements, the iFins can take a beating and are super easy to reshape if they get bent.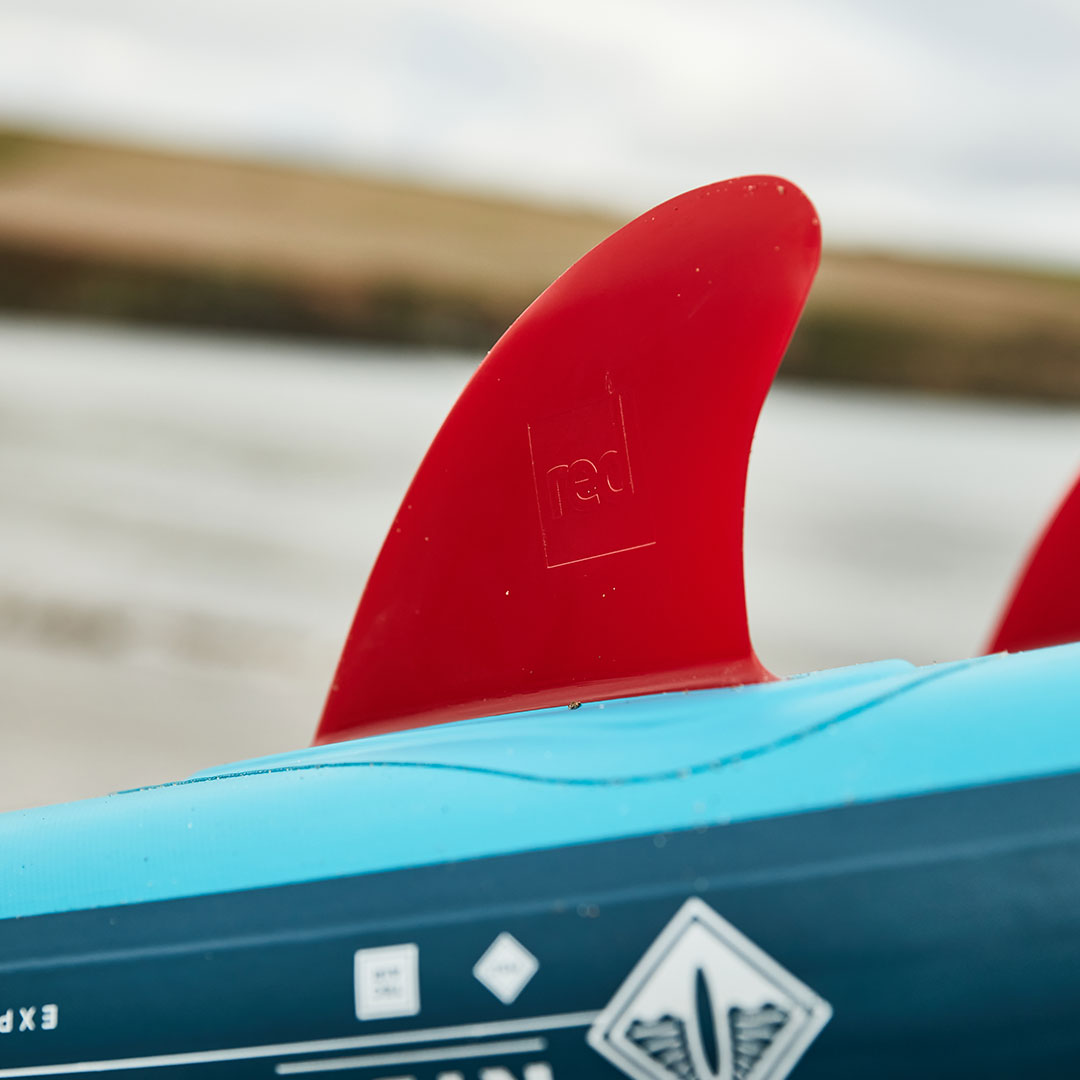 2021 9'4" Snapper MSL Inflatable Paddle Board
Size Chart
Calculate My Size
Please select your height