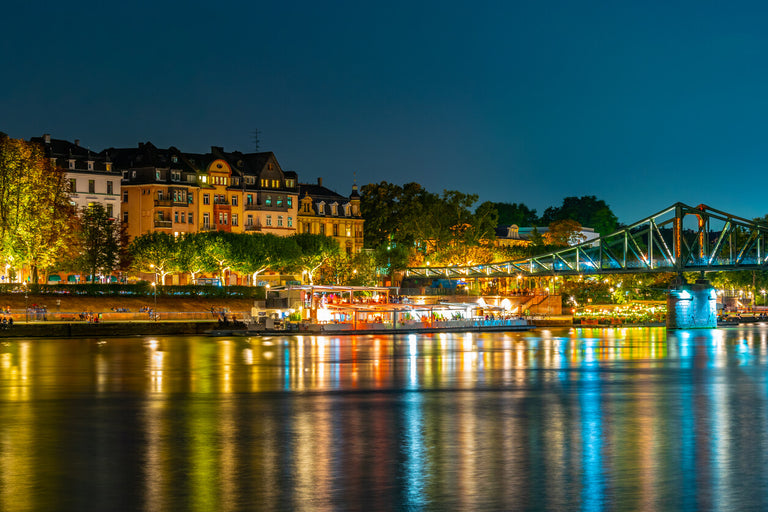 Return to blog
5 Great Places To Paddle Board In Frankfurt Am Main
Posted by Luke Green
Frankfurt is home to the famous River Main, however that's not the only waterway that's great for paddle boarding and other watersports in Frankfurt. In order to help you get started, we've put together the top 5 most beautiful places to paddle board in Frankfurt. Let's take a look at the stunning locations that made it onto the list.
Langener Waldsee
One of the most popular places to paddle board in Frankfurt, the Langener Waldsee is the largest leisure and recreational centre in the whole of the Rhine-Main region. This isn't surprising when you look at the incredible scenery that surrounds this beautiful waterway. Soft sandy beaches are surrounded by luscious woodland, creating plenty of scenic sunbathing spots to enjoy when you've finished your paddle boarding session. There are also plenty of camping spots, if you fancy making it a weekend adventure.
Rodgau Beach
Another one of the most beautiful spots to paddle board in Frankfurt is Rodgau beach. Complete with sandy shores and crystal clear waters, it's no wonder this is a popular spot, particularly during the summer months. The lake here does get busy, and is calmer at certain times than others, meaning it may be better suited to paddlers with a little more experience.
River Main
There's no better way to experience the Frankfurt skyline than by paddling the River Main. Paddling on the Main is a great way to escape the hustle and bustle of the city, all whilst perfecting your paddle boarding skills. It's become quite popular to paddle board on the River Main, and so you're likely to spot lots of fellow paddle boarders to say hello to along the way.
Badestelle Walldorfer See
Packed full of sandy beaches and luscious grassland for picnicking, this is the perfect place to spend a day out paddle boarding and enjoying the sunshine. The waters are calm here, making it a perfect place for beginners to try out and perfect their new paddling skills. There are also spots to play volleyball and enjoy a barbeque in between paddling. If you are hoping to enjoy a picnic here in one of the most beautiful places to paddle board in Frankfurt, be sure to take our waterproof cool bag with you. You can attach the cooler to your inflatable SUP, and take your favourite drinks and snacks out on the water with you.
Lahn River
Northeast of the city is the beautiful Lahn River. A natural paradise that's full of interesting wildlife and scenery, the Lahn River is one of the best places to paddle board in Frankfurt. The calm waters make it popular for water sports enthusiasts, especially paddle boarders and canoers. The shore is lined with diverse scenes of forests and historic buildings to enjoy along the way.
Explore Frankfurt With Red Paddle Co
Discover the best places to paddle board in Frankfurt with Red Paddle Co. Whether you've been paddling for years or are a complete beginner, you can rely on a Red inflatable paddle board for safety, performance, durability and style. We make all our paddle boards in our very own private facility, using specialist MSL technology exclusive to Red Paddle Co. We believe the devil is in the detail, which is why all of our inflatable paddle boards take 72 hours to make. It's our commitment to innovation and adventure that makes us the world's leading inflatable SUP brand.

Use our board selector tool to find the perfect fit, and for further guidance, please don't hesitate to get in touch with our team.