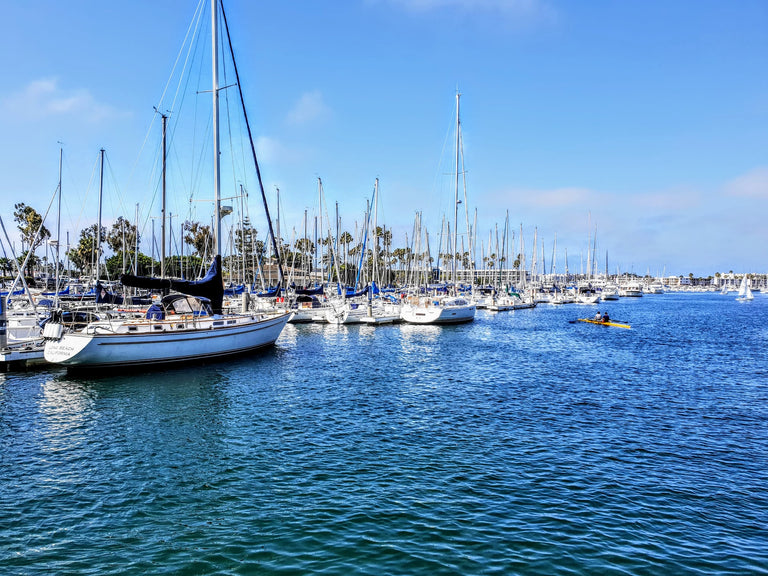 Return to blog
6 Great Places You Have To Go Paddle Boarding In Los Angeles
Posted by Luke Green
The City Of Angels is packed full of beautiful beaches, lakes and waterways. So, as you can imagine, there are plenty of amazing places to go paddle boarding in Los Angeles. Whether you're a beginner looking to try out the sport for the first time or a seasoned pro, you have to get out and discover the following gorgeous locations.
Topanga Beach
This beautiful Malibu beach boasts stunning views, but that's not the only reason it's one of our favorite places to go paddle boarding in Los Angeles. The great thing about Topanga is that it's well suited to SUPers of all abilities. If you want more of a challenge you can paddle close to the shore amongst the waves, or you can head further out to calmer waters for a more relaxed session.
Marina Del Rey
If you're a beginner wondering where to stand up paddle board in Los Angeles, Marina Del Rey has to be on the top of your list. The water is calm and sheltered, creating the perfect conditions for developing your paddle boarding skills. You'll be joined by plenty of like minded people trying out new watersports, and you might even spot a couple of sea lions or dolphins along the way.
Venice Canals
There's no better way to explore the historic Venice canals than by paddle board. If you don't feel confident paddling in open water then this is a great option, and the sheltered river makes paddling a breeze. It's no surprise that this is one of our favorite places to go paddle boarding in Los Angeles, and a great way to escape the noise and crowds of the city.
Malibu Surfrider Beach
As you've probably guessed from the name, Malibu Surfrider Beach is a popular spot for surfers, however in recent years it's become an increasingly popular destination for stand up paddle boarders. In fact, it's become one of the best places to go paddle boarding in Los Angeles. The beach normally has a small shore break which makes it an excellent choice for novice paddlers looking to practice their skills.
Pyramid Lake
Pyramid Lake is a scenic reservoir located in Santa Clarita. It gets its name from the landmark pyramid shaped rock that was carved out when engineers were building the reservoir. One of the reasons this is one of our favorite places for paddle boarding in Los Angeles is the abundance of picnic spots that you can paddle to. You can attach our waterproof cooler bags to your Red Paddle Co inflatable SUP, allowing you to paddle your favorite picnic foods along with you.
Latigo Beach
Last but certainly not least on our top 6 places to go paddle boarding in Los Angeles is Latigo Beach. If you're looking to escape the busy crowds, Latigo Beach is the place to go. This beach is a lot quieter than other LA beaches making it the ideal spot for a quiet paddle. You'll have great views of the stunning Malibu shoreline and gorgeous beach houses that fill it, with the chance to spot plenty of interesting marine life along the way.
Explore LA With Red Paddle Co
If you know of any LA-based paddle board spots that you think we ought to be aware of, make sure you let us know so we can include it in our list of places to paddle! 
As the world's leading inflatable SUP brand, innovation and adventure are at the heart of what we do. It takes us 72 hours to build every individual board, using our exclusive MSL technology. It's this attention to detail that makes our boards unmatched in safety, durability, performance and style. Use our board selector tool to find the perfect SUP for your adventures, and for further guidance don't hesitate to get in touch with our team.