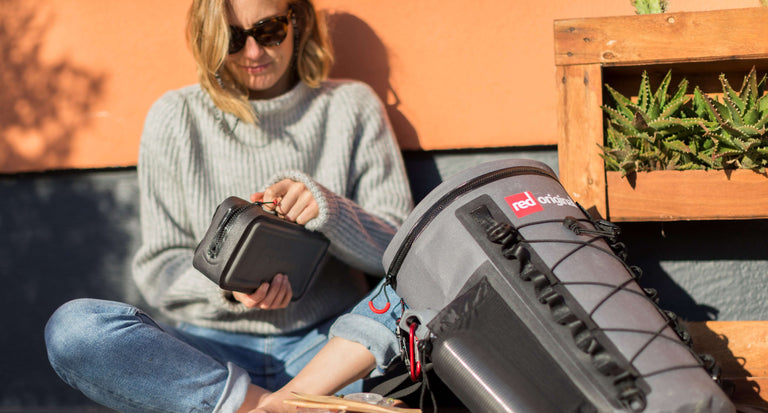 Return to blog
6 Uses For The Red Original Waterproof Pouch
Products
Red Original
Posted by Luke Green
Whether you're paddle boarding at sea or kayaking on a lake, having to leave your valuables on land there is always accompanied by a hint of anxiety. With the Red Original Waterproof Pouch, however, you can keep all your small knick-knacks right alongside you while you're out on the water.
Made using Armour Tech fabric to ensure the items stored inside are well-protected, the Red Original waterproof pouch has an easy-attach Velcro strap system to ensure it doesn't accidentally fall off and get lost. If you should happen to drop it in the water, however, it is designed to float and thereby ensure it is easily recovered.
Now that you know a little bit about what makes it such a handy bit of kit, here are just 6 of many uses for the Red Original Waterproof Pouch.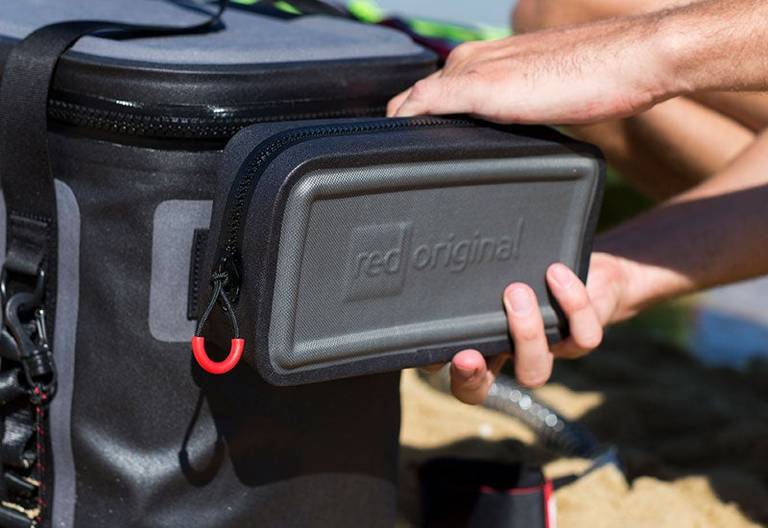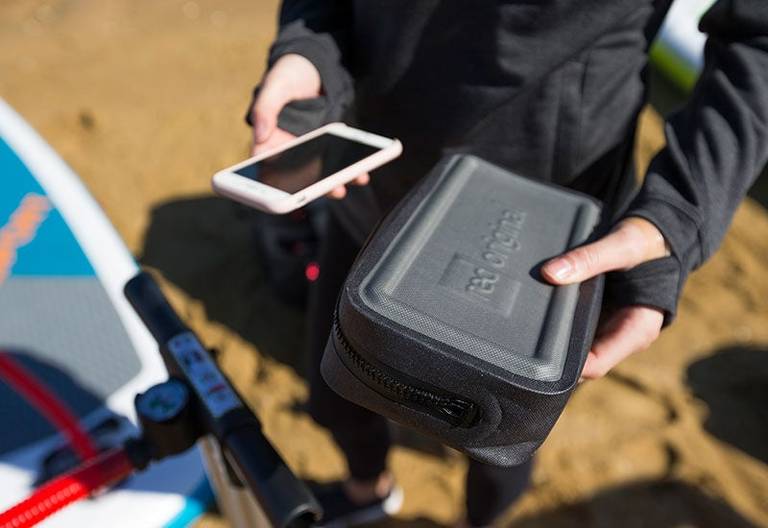 1: Protect your Mobile Phone
We all know that electronics and water don't mix well, even now with protective cases. We still hear cases from customers losing their phone to water damage and sand in the charging ports. After all, it doesn't matter how good your camera phone is if you can't take it on epic adventures.
The Red Original Waterproof Pouch is guaranteed to keep mobile phones safe and secure, thanks in no small part to its hard-wearing welded seams and foam-lined padding.
Our team and customers have given some extensive use. This tough exterior prevents the phone from knocks, drops and scuffs. The portable size can easily fit the larger phones and the removable padded insert adds another layer of padding ensuring ultimate protection.
How does the phone stay dry? The YKK aqua seal zip, which is usually found on dry suits, seals out any water, grit or dirt keeping your phone completely dry and safe!
2: Carrying Cash
Don't you hate it when you paddle to the café and you have to rummage around at the bottom of a big dry bag for your wallet? With the heavy-duty Velcro, the waterproof pouch can be detached in seconds. The small, portable pouch can be discreetly carried around town or added to a backpack. This makes it the perfect adventurers purse for small items whilst on the move.
The full-length zip allows the pouch to open up fully to arrange your items freely and easily. There's no need to worry about your passport or small valuables ever again whilst travelling.
3: Store Your Car Keys
Losing your car keys is a real day wrecker especially after a good day on the beach. Hiding your keys on the wheel arch has to be the oldest trick in the book. And is possibly the first place that opportunistic thieves check.
The Red Original Waterproof Pouch can store multiple keys and a mobile phone with ease. Long gone are having to use a little waterproof pouch around your neck. Which never seem to keep your valuables completely dry. The Waterproof Pouch can Velcro onto a paddle board, boat, canoe or even on your pannier rack whilst biking. The perfect store all for the small yet essential items!
4: Bringing An Emergency Radio
If you're planning to take yourself a little bit off the beaten track, it's a good idea to take an emergency radio with you. There are a lot of compact emergency radios available and while they do come at various price points, we do not recommend skimping on price. You hope to never need to use one but if you then you want to know you can rely on your radio. Most even come with additional built-in features for convenience, like a torch, solar panel, SOS beacon, crank handles, mobile phone charging ports, and much more.
If you've not got an emergency radio and are looking for a little guidance, here is a handy buying guide of 2019s best emergency radios.
5: Packing A First Aid Kit
Getting a first aid kit right seems to take years of refining. Too much stuff and it's overkill and to minimalist and you find yourself improvising drastically! The waterproof pouch is just the right size for the essentials. Keeping bandages, plasters and steri-strips safe and dry, ready for when you need them.
No more throwing away wet and soggy plasters after a failed dry bag. The Red Original waterproof pouch is just big enough for that small compact and discreet first aid kit. With the multiple attachment points. The waterproof pouch can be attached to any nearby access point. To avoid that digging at the bottom of the bag in the hope that you actually packed a first aid kit.
6: Sneaking Snacks Along
If you're planning on being out on the water for more than an hour or so, chances are you're going to get peckish. Fortunately, the Red Original waterproof pouch is surprisingly spacious and has more than enough room to fit most, if not all, of the above AND an energy bar or two. It won't be enough to keep you going all day (we have a waterproof cooler bag for that) but it should help you to keep on going for longer, which means fewer breaks and more time spent paddling, sailing, rowing, or whatever it is you kids are doing these days.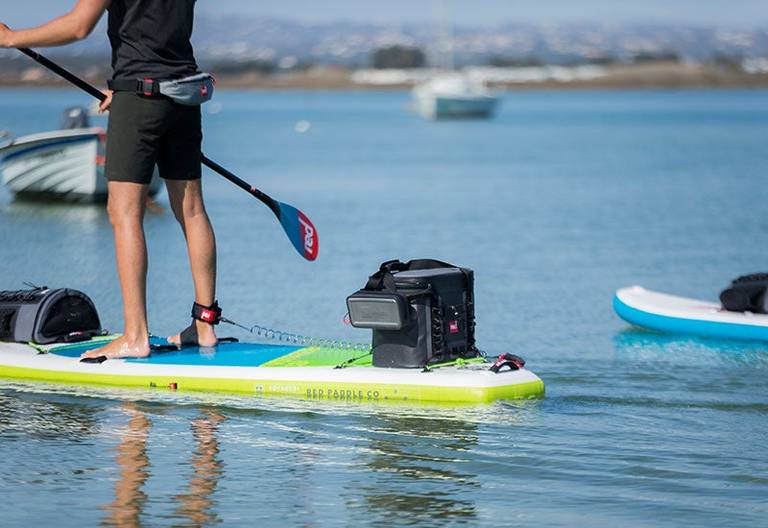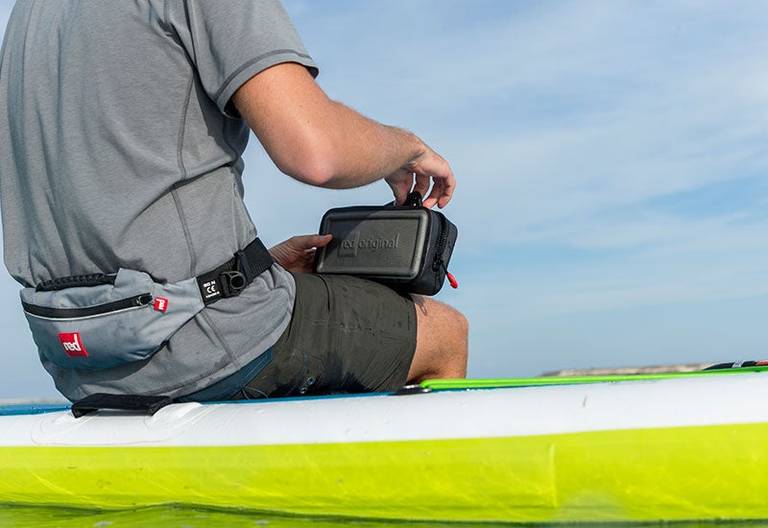 As you can see, the Red Original waterproof pouch is an incredibly versatile piece of kit, providing both convenience and peace of mind. Though spacious, the waterproof pouch is designed to carry only a few small items and our 22-litre waterproof deck bag might be the better option for those prefer to bring a little more along with them. If, on the other hand, you don't think you'll want to carry enough to warrant a dedicated storage pouch, the Red Original Airbelt PFD has a water-resistant pocket that's perfect for keeping keys and money safe. If you're at a point where you're thinking about replacing your current personal flotation device, then this might be the perfect option for you.