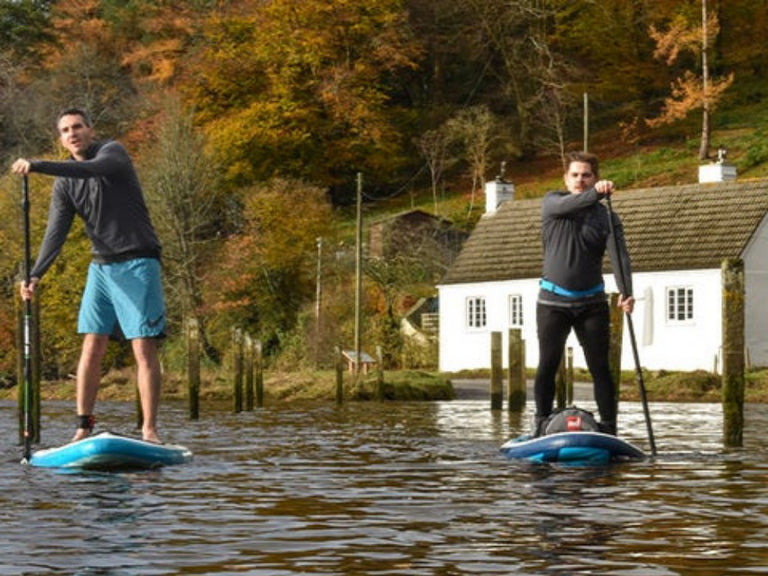 Return to blog
A Week of Adventure - Stand Up Paddle Boarding
Outdoor
Paddle Boarding
Posted by Alex Clasper
We couldn't have a week of adventure without getting out on a paddle board. With so much access to superb waterways deciding where to go is always an added luxury.
Stand Up Paddle Boarding in Devon
Devon is best explored from water level. Even in the middle of a wet and windy November we could find rest bite from the wild weather. Ideal for our midweek adventure. We needed somewhere sheltered from the wind and nothing to hectic. No one wants to be that person wrestling with their board as they walk along a beach blowing a gale. Fast and light was the plan, well that's what we liked to think anyway.
We settled for a paddle on the Avon Estuary from the village of Aveton Gifford. An easily accessible spot for us to park up, pump up and paddle. Mini-adventures don't need to be complicated the beauty of just being out on the water is always welcome.
Favourite Clothing for Stand Up Paddle Boarding
Luckily the weather whilst being cool was bright and sunny a typically autumnal scene. The team assembled, and gear was hauled out the back of cars. The usual discussion of 'What shall we wear?' Could we get away with just shorts and a Performance top? The ideal combo for the day. The rolling out of boards and pumping began, deck bags were loaded and in no time at all we were off for a jolly on the water.
With no destination in mind it's always good to let your direction wonder to any point of interest you choose. The tide was on the turn allowing us to have a blast downstream nattering away and enjoying the birdlife along the estuary.
Not having anywhere else to be is a real treat. Opting out of the daily rush and hustle is always refreshing. A constant reminder we should perhaps work harder to create a little more time. We settled for a spot in the sun on the banks of the Avon. The Autumnal sunshine whilst enjoyable was lacking in its warmth. Winter is well and truly on its way. After a quick snack and the usual discussion of putting the world to rights. We decided to paddle back incentivised with the idea of a possible bacon sandwich. Another day of adventure in the bag and a very successful one at that.