Return to blog
8 Essential Road Cycling Tips For Beginners Around The UK
Posted by Alex Clasper
Thinking of trying out road cycling? Becoming a pro at cycling on the road presents a great opportunity to improve your general fitness levels, whilst giving you the chance to cover greater distances, without the obstacles you face with off-road cycling. Road cycling presents its own set of challenges, however with the right guidance it's easy to adapt to the roads safely and expertly. These are our top 8 road cycling tips for beginners who are looking to try out their skills for the first time:
Choose The Right Bike
Finding your first road bike can be a bit mind-boggling. There are plenty of models to choose from, made from different materials and at vastly different price points. In order to narrow down your options it's important to ask yourself two key questions - What type of cycling will I be doing? (i.e racing, commuting etc.) and what is my budget? Most entry level bikes will have an aluminium frame, whilst higher end bikes are likely to be made of carbon, making them lighter and faster. A specialist will be able to assist you in choosing the right size model for your requirements.
Always Wear A Helmet
It might seem like an obvious point, however the importance of wearing a helmet for keeping you safe can't be stressed firmly enough. Wearing a helmet is essential whenever you step on a bike, however it's particularly important when you're faced with the added hazard of fast moving vehicles and traffic. It's best to choose a mid to high end range helmet as this will help keep you comfortable and cool as well as safe.
Make Yourself Visible
Another one of the most important road cycling tips for beginners is to always make yourself visible. The Highway Code advises that you should wear light-coloured or fluorescent clothing in daylight and poor light conditions. You should also wear reflective clothing and/or accessories in the dark. The highway code also states that you must have a white front and red rear light fitted at night, as well as a red rear reflector. If the bike was manufactured after 10/10/1985 it must also be fitted with amber pedal reflectors.
Be Aware & Anticipate
The key to cycling on the road safely is staying alert and anticipating the movements of vehicles and pedestrians. Always be aware of what is happening around you, including vehicles on the opposite side of the road, vehicles waiting to pull out of junctions and pedestrians looking to cross the road. You also want to make sure that you're leaving enough distance between yourself and the vehicle in front in case they brake suddenly.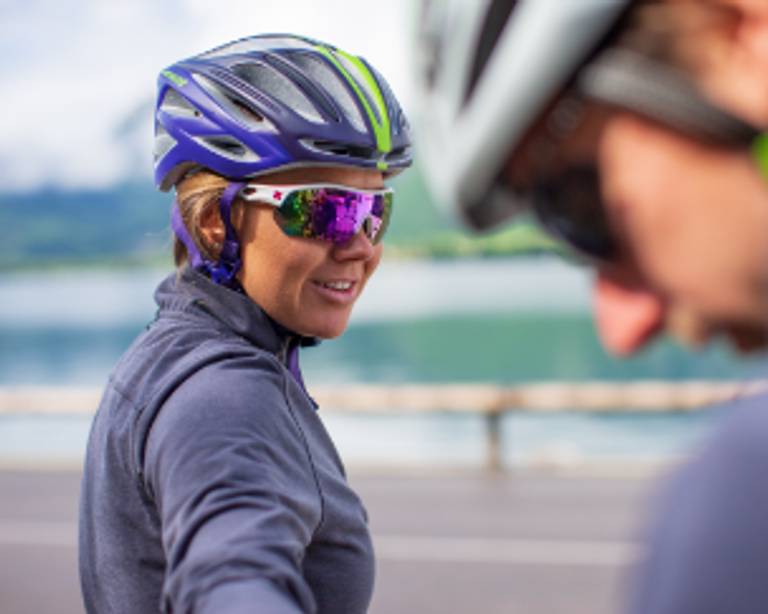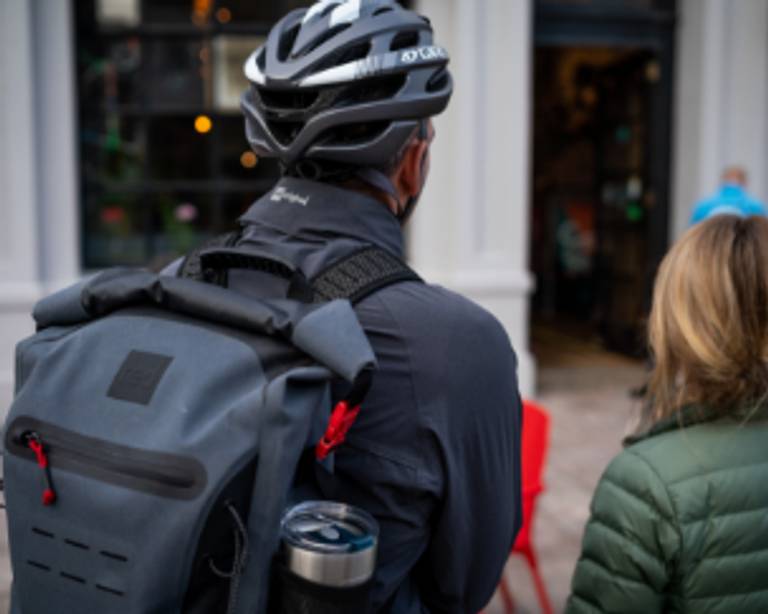 Think About Your Road Positioning
In order to maximise your vision, it's recommended that you ride in the centre of the cycle lane. When moving out into the flow of traffic to move around an obstruction, make sure to check over your right shoulder before you move. If a vehicle is moving too fast for you to move out, slow yourself down and wait until there is a safe gap.
Dress For The Weather
You can't always rely on the weather (particularly in the UK!) and so it's always important to be prepared for the elements so that you can stay comfortable throughout your ride. Lycra shorts and a moisture wicking t-shirt or long sleeve top are important basics. If there is a chance of rain, you should make sure you're wearing a lightweight rain jacket.
Monitor Your Speed
Another one of our top essential road cycling tips for beginners is to limit your speed. When surrounded by fast moving traffic it can be tempting to try and match the speed of those around you. What's important is making sure that you're maintaining a safe and consistent speed so that you are in control and able to avoid any obstacles or oncoming vehicles in your path.
Communicate With Other Road Users
As we mentioned a little earlier on, it's crucial to make sure that you're visible to other road users and that you're aware of where they are. That's why another one of the most important road cycling tips for beginners is to communicate with other road users. Try to make eye contact with pedestrians and vehicles to check that you have both seen each other.
Bring A Phone In Case Of Emergencies
Whenever you head out on your bike, it's always a sensible idea to bring a phone with you. This means that you can call for help in the event of an emergency. You can use the Red Original waterproof dry pouch to keep your phone dry, secure and out of the way. The sleek design of the dry pouch attaches comfortably around your waist, leaving your hands free to grip the handlebars and ensuring your position on the bike isn't disrupted.
For more road cycling tips for beginners, or for help finding essential cycling equipment, please don't hesitate to get in touch with the team at Red.