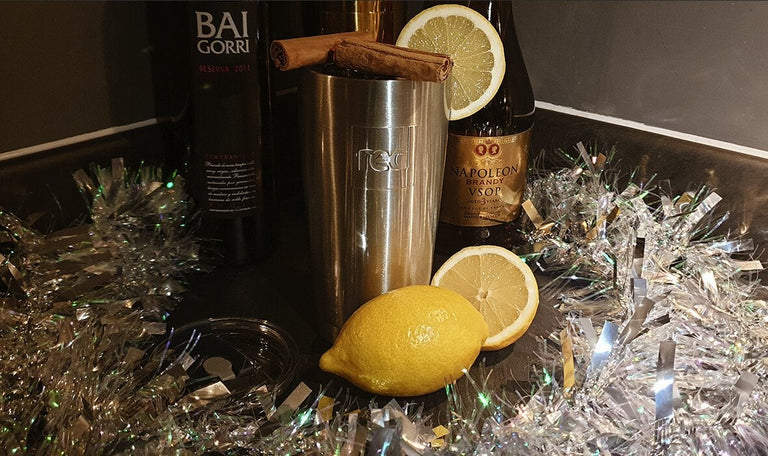 Return to blog
5 Delicious Festive Drinks To Enjoy From The Red Original Travel Cup
Posted by Luke Green
With the festive season upon us, everyone at Red Original is finally starting to get into the Christmas spirit. Since the arrival of our new Insulated Travel Cup some of the team have used this as an excuse to get into the swing of things a little earlier than usual, but it's OK. It is the season to be jolly after all!
ANYWAY! Now that it's a perfectly acceptable and appropriate time to start getting Christmassy, we thought we'd share some of our favourite festive drinks with you. Some are hot, some are cold, but all are absolutely delicious and sure to get you feeling festive too.
Mulled Wine
Let's start with a classic Winter warmer; mulled wine. What makes mulled wine great is that it's not only delicious but versatile too.
You can enjoy a glass while out with friends, curled up on the sofa at home (good luck if your sofa is beige), or, if you have an insulated travel cup, while on a brisk Winter walk. Another fantastic thing about mulled wine - and most other drinks on this list - is that it's easy to make! All you need is:
750ml (1 bottle) red wine
100g demerara sugar
2 x oranges
2 x lemons
2 x cinnamon sticks
4 x star anise
4 x cloves
And once you have them, all you've got to do is…
Cut your lemons and oranges into circular slices and remove all the seeds
Pour your red wine into a saucepan and add all other ingredients after it
Gently simmer for 6-10 minutes, stirring occasionally
Serve up and drink
There you have it. As you can see, the only way making mulled wine could be any easier is if you choose to buy a pre-mixed bottle of the stuff, in which case all you need to do is stick a mugful in the microwave or heat it up in the pan.
The longer the ingredients are left to simmer in the wine, the more flavourful and aromatic your mulled wine will be. That said, you need to be careful as allowing the wine to boil will ruin the end result. If you are using an insulated cup like the Red Original travel cup, leaving part of a cinnamon stick and half a slice of orange or lemon mixed in with the wine will allow those particular flavours to come through stronger as you continue to enjoy your beverage.
When it comes to choosing a base, you'll want to avoid delicate red wines - like Merlot, Grenache, and Pinot Noir; which includes all Burgundy wine - as their flavours will be overpowered by the cinnamon, cloves, and star anise. Personally, we'd recommend a Malbec, Cabernet Sauvignon, or Shiraz, however, you can have quite a lot of fun experimenting with different wines to find your favourite.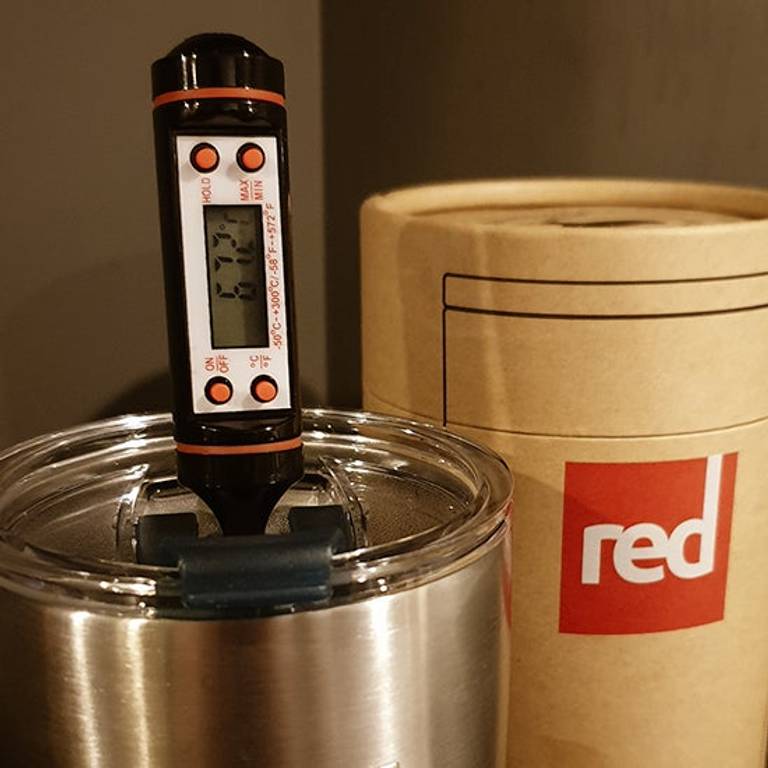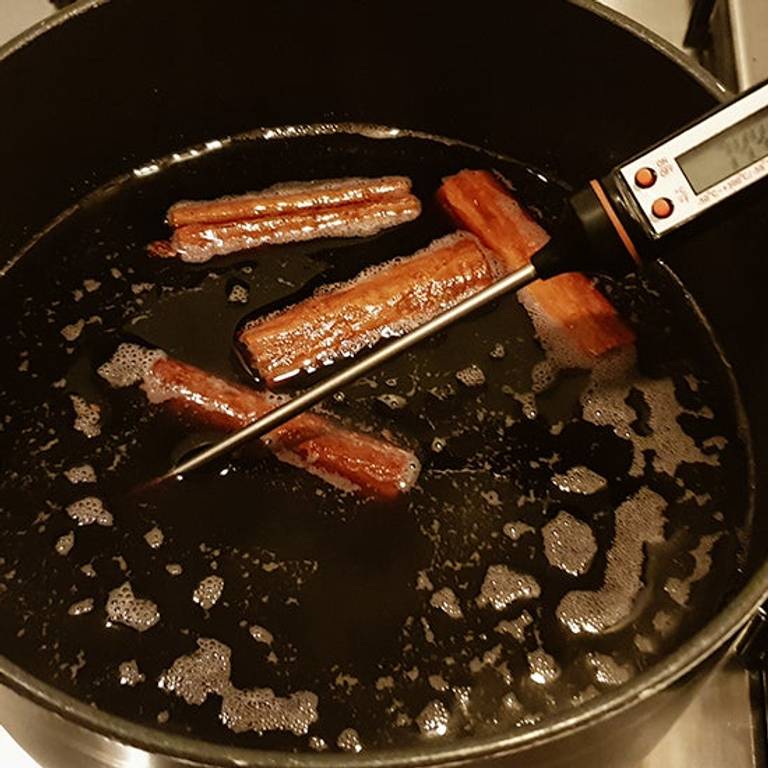 Hot Toddy
A lot of people see the Hot Toddy as a recovery aid rather than an enjoyable beverage and these people are wrong. Hot toddies are a fantastic choice of Winter warmer, as the pleasant burning sensation you get from the brandy when you swallow complements the temperature and overall flavour.
To make a soothing yet tasty hot toddy that you'll enjoy drinking regardless of your physical wellbeing, you'll need the following
400ml lemonade
100ml water
50ml (minimum) brandy
1 x half lemon
2 x teaspoons of honey
Optional: 2 x cinnamon sticks
You might think lemonade is an unusual ingredient for a hot toddy, but it's absolutely essential. Don't get us wrong, hot toddies are great when made with just hot water but we've found that using lemonade too prevents the flavour from becoming too overbearing.
Now that you're thoroughly convinced, we can begin:
Pour your lemonade and water into a saucepan and simmer for 5 - 10 mins
Optional: Add cinnamon sticks in and let them simmer with the mix for the last 5 minutes
Remove the saucepan from the heat source
Squeeze the lemon into the saucepan, doing your best to get no seeds in but inevitably failing
Decant the mixture into a mug or, dare we say, Red Original travel cup
Add the honey directly into the mug or cup and stir until dissolved
Free pour 50ml of brandy in, bearing in mind that 50ml is more than you think it is
Give your drink another good stir and it's ready go!
If you're in a rush and don't want to wait for saucepans to boil, you can lose the cinnamon sticks then simply boil a kettle full of water and microwave the lemonade in a microwave-safe mug. Then, all you need to do is add all the ingredients into the mug and stir. The result won't be quite as good, but an A+ is an A+ whether you get 90% or 100%. If you aren't a fan of brandy, you can happily substitute it with whisky, rum, or even tequila depending on your preference.
Winter Sangria
Sangria is a popular Summer drink, but it's easy enough to adapt for Winter. We were sceptical too at first, especially when we saw that it had cola in it, but we were wrong and are sorry. Not to sound bias but if there was a 'hidden gem' in this post, this is it. What's more, it's not even difficult to make! All you need is:
Ice cubes
1 x lemon
2 x cinnamon stick
750ml (1 bottle) red wine
100ml (minimum) brandy or Orange brandy
500ml Cola
As you can see, the ingredients are pretty basic and easy to come by, and they are not at all hard to put together either:
Cut your lemon into circular slices
Get a jug, preferably 1.5 litres or larger, and add a handful of ice
Pour your wine and brandy into your jug
Throw you cinnamon sticks and lemon slices in, and give it all a stir
Top up with cola or cola and ice and stir again
Pour into a glass or travel cup and enjoy
Normal Sangria is often made with sugar and topped up with soda water, but the cola provides both of these plus an added herbaceousness. Coca-Cola is a solid option and you can experiment with the various flavours, but there is also a lot of fun to be had trying different colas. For instance, we tried the Winter Sangria with Fever-Tree Madagascan Cola and it brought a totally different finish than Coca-Cola did.
As with mulled wine, we recommend using a stronger red wine like Malbec, Cabernet Sauvignon, or Shiraz as the base of your Winter Sangria.
Coffee Liqueur Hot Chocolate
Ok, so a Coffee Liqueur Hot Chocolate is a cocktail in the same way that a Seabreeze or Cuba Libre is a cocktail. You don't really want it to count it as a cocktail as it's basically a spirit and mixer, but you also can't really argue with the results so begrudgingly give in. That said, when a drink relies on so few ingredients, those ingredients really must be top-notch. Instant hot chocolate made with boiling water simply will not do, as the result, we discovered very recently, is a thin, lacklustre beverage that's not-not enjoyable, but also not enjoyable; get what we mean? To make a Coffee Liqueur Hot Chocolate properly, you'll need the following:
Coffee liqueur
Drinking chocolate or hot chocolate flakes
Milk or milk-alternative
Cinnamon sticks
Optional: 1 part Amaretto to every 2 parts coffee liqueur
You may have noticed that we've not included measurements or quantities and this is because each person has their own preference when it comes to the ratio of chocolate to milk. You don't tell us how to make stylish, adventure-ready waterproof jackets, so we won't tell you how you like to make your hot chocolate. Seems only fair.
When it comes to coffee liqueurs, Kahlúa is a popular choice but there are others available and it's relatively easy to make your own. Just remember, coffee liqueurs can vary quite considerably in terms of strength; for instance, Tia Maria is 20% alcohol while Cazcabel coffee liqueur is 34%. The strength of your coffee liqueur will have an effect on the overall flavour of your drink, so make sure you bear this in mind when creating your cocktail. Now that the disclaimers are out of the way, we shall continue with the recipe:
Decide if you want coffee liqueur and Amaretto, or just coffee liqueur
Optional: If you chose coffee liqueur and Amaretto, we recommend a 2:1 ratio, so 25ml of Amaretto for every 50ml of coffee liqueur
Either strictly or loosely follow the instructions of your preferred brand of drinking chocolate or hot chocolate flakes in order to make your hot chocolate
If you want to give your Coffee Liqueur Hot Chocolate a real festive kick, cut a cinnamon stick in half and throw both pieces in while preparing your hot chocolate
Pour into a mug or travel cup and top up with your spirits
If you don't want to give your Coffee Liqueur Hot Chocolate a real festive kick, cut a cinnamon stick in half and throw both pieces in now
A little tip for you; if you find yourself getting a little sick of coffee, try swapping it out entirely for orange brandy. You won't regret it.
White Wine Apple Spritzer
Finally, something a little more fruity. The White Wine Apple Spritzer takes the place of Mulled Cider on this list, as we figured it'd be a little too similar to Mulled Wine. Don't worry though, we tried this drink recently and found it light, festive and refreshing.
To make this particular White Wine Apple Spritzer, you'll need:
Ice cubes
1 x apple
50ml brandy
150ml apple juice
250ml white wine
100ml soda water
Once again, we have chosen brandy because we feel like it's quite a Christmassy spirit, but it's not the only option. If you want to substitute the brandy for a rum or a non-peaty whisky, the result should still be very enjoyable. Word to the wise, however, tequila worked for the hot toddy but does not work for this.
Cut your apple into round slices, removing the seeds
Put some ice into a glass
Pour your white wine, apple juice, and brandy into the glass
Remove some ice if necessary and top up with soda water
Garnish with an apple slice and enjoy the remaining slices as a healthy snack
Drink up
While it's entirely down to your preference, we'd advise against using dry white wines like Chardonnay and White Rioja, and instead recommend sweeter options like Chablis, Chennin Blanc, and Pinot Grigio. Depending on your tastes, you may also want to experiment with a more fruity white wine, like Sauvignon Blanc or Vinho Verde. Alternatively, you can remove the white wine and soda water completely, replacing them with a sparkling wine like Prosecco, Cava, or Champagne.
For those who prefer a more savoury flavour, you can balance out the drink's sweetness by adding in some matcha tea. Made from ground-up green tea, matcha tea goes great with apple juice and can be stirred in to bring a bit of balance to its otherwise sweet taste. Some bottled apple juices come with Matcha Tea already mixed in (though you'll probably find it all settled at the bottom) however, you can also buy it separately to enjoy on its own.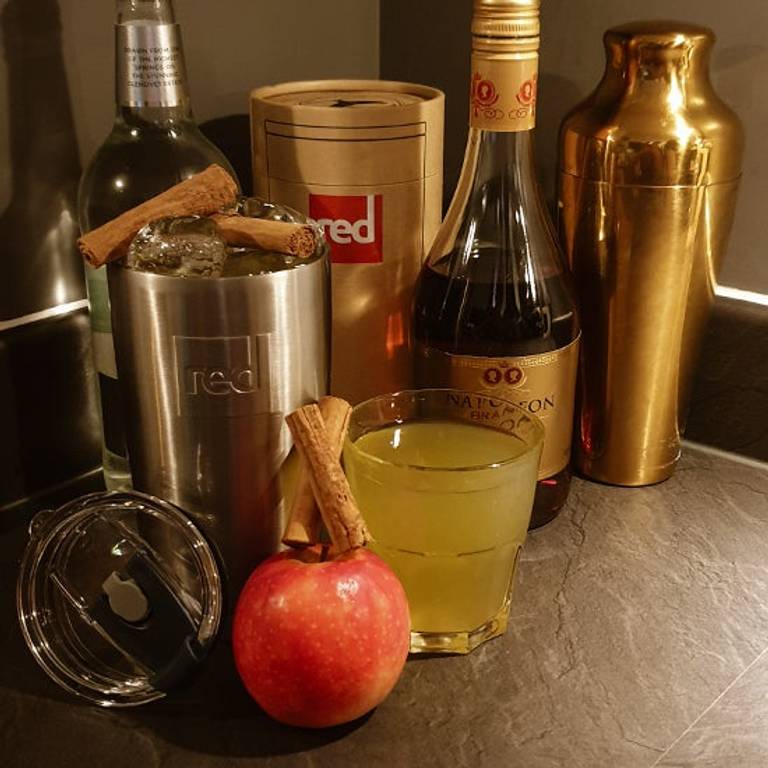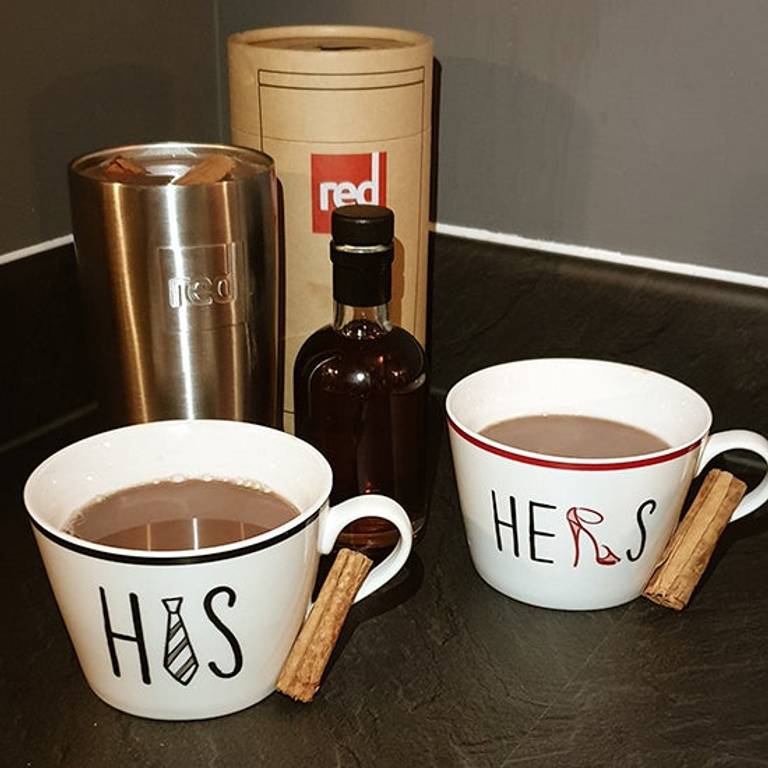 The Red Original Insulated Travel Cup
Much like the Red Original water bottle, the Red Original insulated travel cup has been made using marine-grade stainless steel and double-walled construction. The materials used to build the cup not only ensure its resistant to damage from physical scrapes and blows; it protects it against corrosion from the salt found in saltwater too. On the other hand, the double-walled construction creates a vacuum between the inner and outer wall. This prevents the temperature outside the cup from having as much effect on the temperature inside the cup. It's this double-walled insulation that allows the cup to keep hot drinks hot for over 4 hours and cold drinks cold for over 8 hours.
To test its ability to keep drinks warm, we ran a test while trying out our Hot Toddy recipe. We filled our insulated travel cup and a normal mug with 300ml each and checked the temperature ever 30 mins. Coming out of the saucepan 72 degrees celsius, the temperature in the travel cup after 30 minutes was 64.2 degrees, while the hot toddy in the mug was 41.1 degrees. After an hour, the drink in the travel cup had only cooled to 60.5 degrees, a reduction of only 11.5 degrees. During the same period, the hot toddy in the mug had cooled to 33 degrees, a decrease of well over 50%. After 2 hours, the hot toddy in the mug sat at 26.1 degrees, while the contents of the travel cup were 54.4 degrees. Finally, after 3 hours, the temperature of the hot toddy in the travel cup had not even been cut in half, falling just 0.4 degrees below 50. Meanwhile, the beverage in the mug has cooled to 24.1 degrees, practically room temperature.
To learn more about the Red Original travel cup and its properties, visit our insulated travel cup page. If you like what you see but are looking for something a little less cup-shaped and a bit more bottle-like, check out our insulated water bottle.